How would the future of work(place) look like in the social distancing economy?
I started looking into the future of work(place) and office rental business, what are key trends and critical uncertainties and what could be some of the relevant future scenarios to plan for.
Is remote culture going to become the norm? Our work-life blend will dramatically change? Will we be more willing to give up even more of our privacy and share some of our personal data for better health and safety? What is the future of shared spaces and social clubs – will COVID-19 doom coworking?? Will we advertise for Virtual Team Managers positions? Every onboarding training will include a kit for WFH? How about trainings, team-building or wellbeing program – what will they consist in now? We were talking already about the shift from human resources capabilities to community building capabilities – how will that work in a 2 meters distancing world?
I have listed below part of the signals of change and innovations that tap or emerge in some of these scenarios:
Workplace setting
Workplace Technology:
Uncertainty is the only certainty nowadays.
I think we can all agree that the current crisis will shift behaviours, values, attitudes, we just do not know yet how all this could impact the future of work(place). Rather than waiting and predicting, building future preparedness through Scenario Planning could benefit organizations more. The process will never erase all uncertainty, and it does not predict the future.
Instead, when done well, the process brings to light many possible future developments and turning points, for which organisations ca prepare their strategic responses (planned actions) or tactical pivots (immediate responses). We have developed and work with this canvas when drafting future scenarios, message me if you would like to receive this template.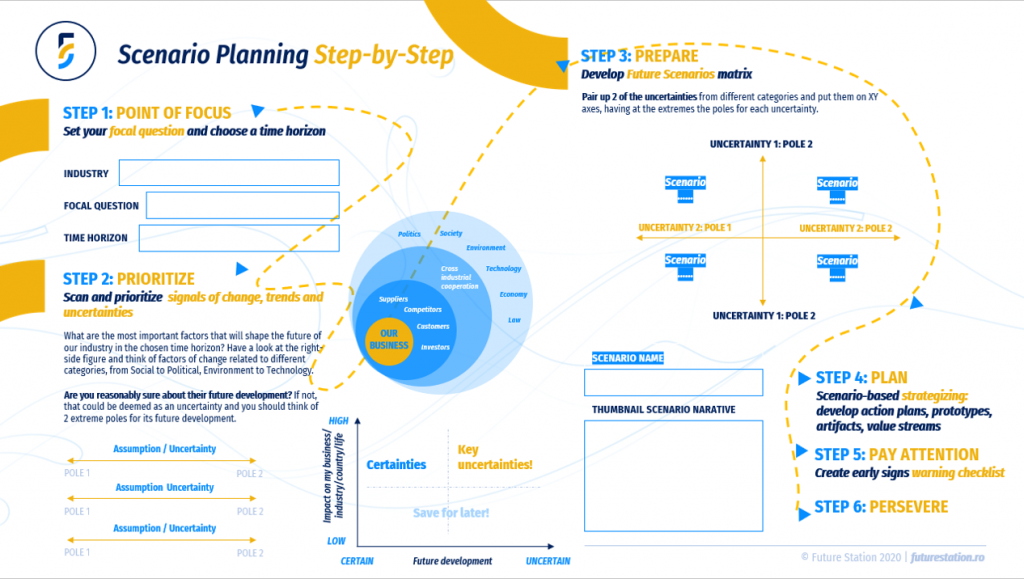 Scenarios help people live better with uncertainty. At its core, a scenario is a story, a view of how the future might unfold. And that triggers imagination and reflection by challenging current assumptions and known truths. Stay safe and spread this instead!
Learn More